In November and December, 2017, London Transit conducted public engagement for the 2018 Draft Service Plan to inform London Transit's 2018 Final Service Plan.  Public engagement included six open house sessions and an online survey. Facebook comments, emails and phone calls were also incorporated into the engagement process.
In total, the feedback received included 799 survey responses, 88 Facebook comments and had 142 attendees at our open houses.
The following provides a summary of the feedback and how it influenced decision-making on the final plan.
Invest in Route 2, 90, 102 & 106
What We Heard
The online survey included a participatory budgeting process where respondents could choose their own London Transit 2018 Service Plan.  The result of this was overwhelming support for investment in Routes 2, 90, 102 & 106 to improve frequency and reliability.  Comments echoed this sentiment and conveyed concerns about overcrowding and late buses on these routes.
The following charts show results from the participatory budget.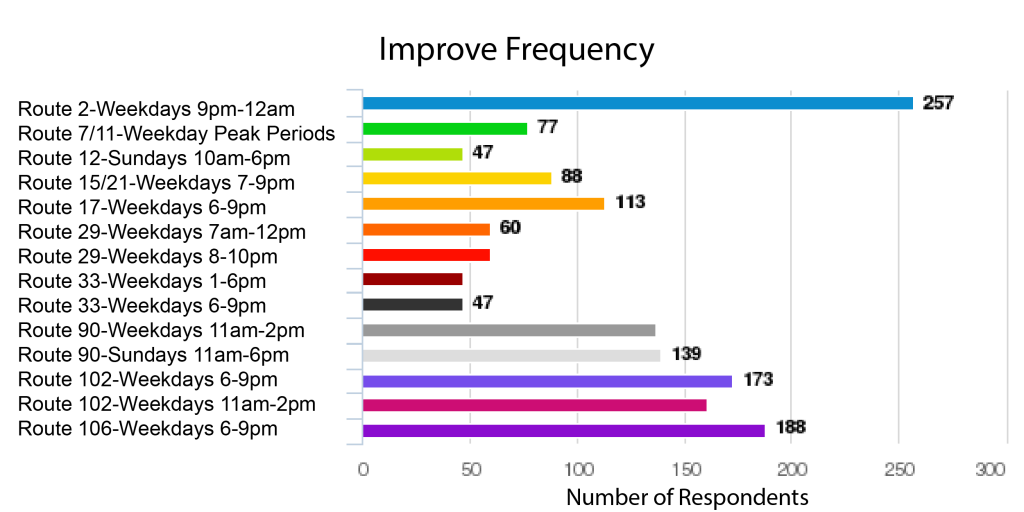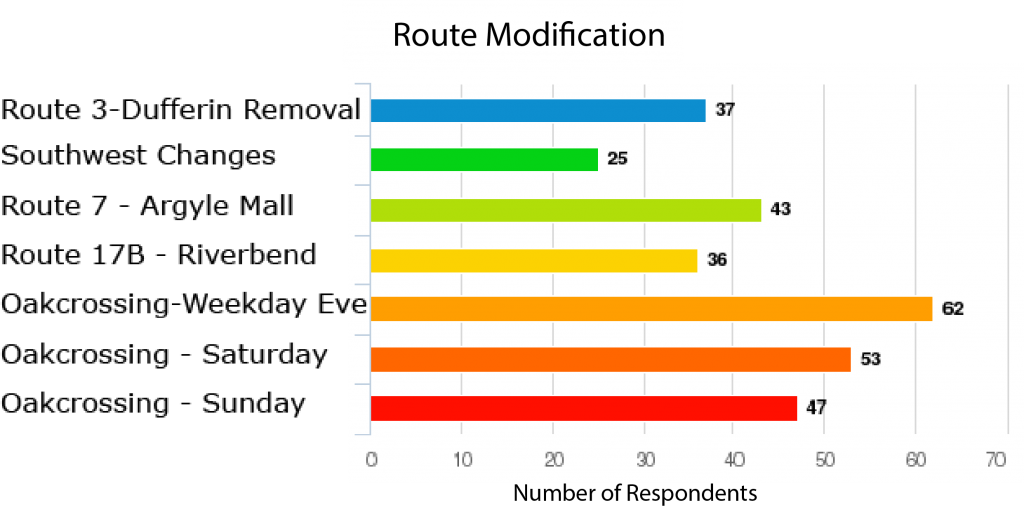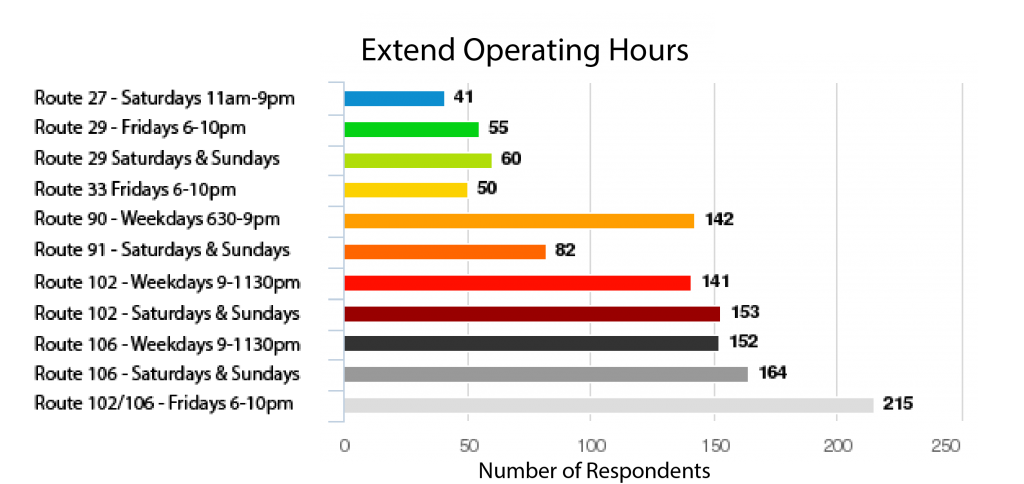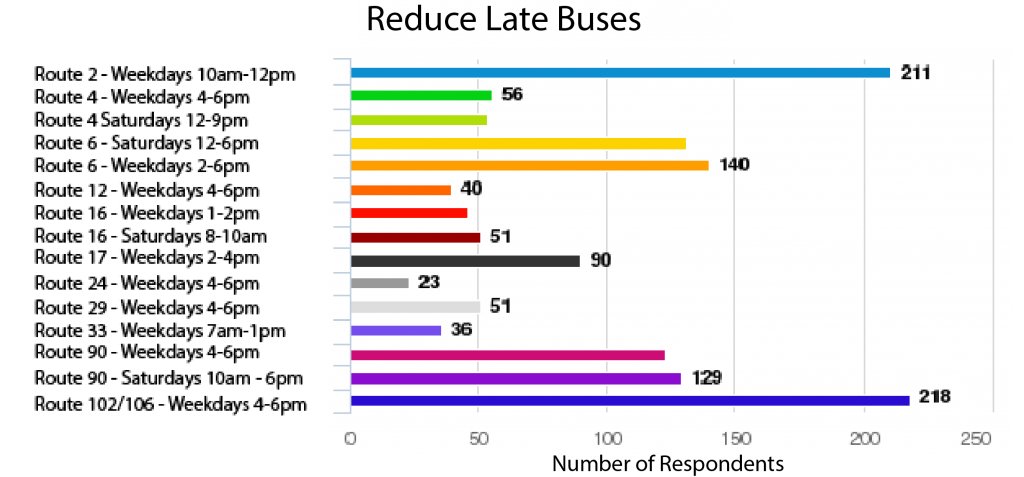 How Was Feedback Used
The draft plan included more hours than available in the budget, and needed to be refined for the final plan. Routes with overwhelming support were prioritized for inclusion in the final recommendations.
What Was Recommended
All recommended investment in Routes 2, 90, 102 & 106 in the draft plan were retained in the 2018 Final Service Plan.
Southwest Changes
What We Heard
The feedback on the proposed changes to the southwest were somewhat mixed but with a greater proportion who disagreed with them. The following chart highlights general sentiment.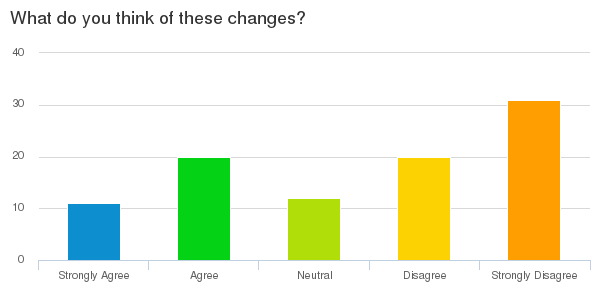 While there was disagreement with the proposed changes, a majority of respondents wanted some change to be made. The following chart shows what respondents recommended to do.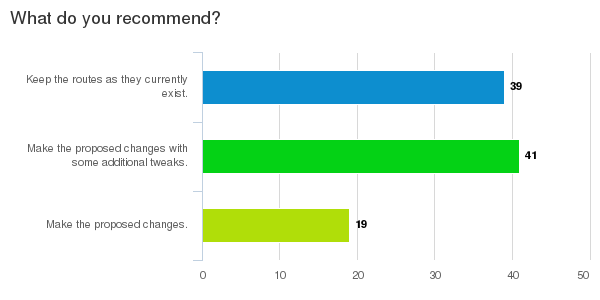 The biggest concern related to the removal of Route 23. It was the only aspect of the southwest changes that had more respondents in disagreement with it rather than in support. Most of the concern received was from riders in Berkshire Village and along Gardenwood Dr, Ridgewood Cr. and Greenwood Ave. The longer walk from these areas to Route 11 and the reduced frequency from Berkshire Village to the Southcrest Shopping Centre (Giant Tiger) were two of the biggest issues.
Respondents also disagreed with the changes to Route 11; however, a greater proportion supported the route modification. The main concern with the route modification was a lack of direct service to the Capitol Hill apartments at the southwestern point of Base Line Rd.  Our operators in particular expressed this concern as they saw a high proportion of people with mobility impairments in these apartments.
Concerns were also raised about the removal of Route 11 service on Commissioners Rd. W. between Topping Lane and Beachwood Ave and the removal of Route 24 along Viscount Rd. east of Wonderland Rd. S. The concerns however were minimal in comparison to those who voiced support for the alternative routing.
The following chart displays support for each element in the proposed southwest changes.  The response categories from left to right (blue to orange) range from strongly agree to strongly disagree.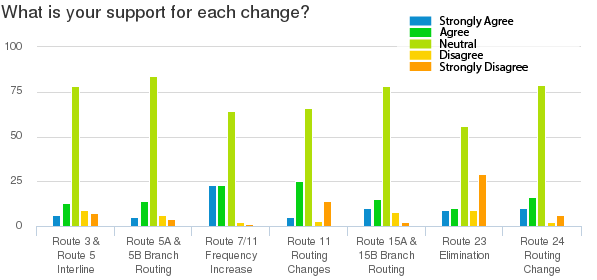 How Was Feedback Used
The intent of the changes was to not improve service around Berkshire Village but to 'rightsize' the service to better match service provided with demand. In doing so, service would improve across London's entire Transit Network.
Much of the opposition to Route 23's removal was received from residents surrounding the Berkshire and Gardenwood intersection. As a result a modified routing was recommended to the Commission as part of the final service plan. The modified recommendation allows Route 11 to directly serve the intersection and provide better service coverage for Gardenwood Dr. Route 11 would operate on Southcrest, Gardenwood, Berkshire, Topping and Commissioners.  While this routing is slightly slower than the original proposed routing, it provides service to a higher ridership area and helps reduce the impact of Route 23's removal. Feedback from our operators about operational difficulties with school buses on Base Line Rd. also helped to reinforce this change.
London Transit evaluated a number of alternative routing options related to the opposition of direct service removal to the Capitol Hill Apartments including an alternative routing that would have seen Route 15 travel west on Base Line past Beechwood to Robin to Berkshire to Topping. Route 11 would have operated on Beachwood and the current Route 15 routing on Andover and Viscount.
This routing would have taken longer to operate as compared to the alternatives which would decrease the ability to invest in other routes and would increase trip times for riders not in the Capitol Hill apartments. Additionally, this option would not allow for the improved service to the Gardenwood and Southcrest intersection and frequency would have decreased on Andover and Viscount.
Ultimately, these factors outweighed the benefit of maintaining direct service to the Capitol Hill apartments. While the apartments will not have direct service they will still be within 400 meters to the transit stop on Beachwood. A 400 meter walk distance to a bus stop is the London Transit standard and puts the apartments on par with the service experienced for most of London.
Our operators expressed concern over the different proposed eastbound routings out of downtown for Route 3A and Route 3B. The different routings would be inconvenient for those wishing to head east as riders could not wait at one stop for both Route 3 branches. Route 3B was therefore modified to match the routing of the interlined Route 3A/5.
What Was Changed
Route 11 was modified to serve Topping Ln., Berkshire Dr. and Gardenwood Dr. between Commissioners Rd. W. and Southcrest Dr.
Route 15a was modified to serve McMaster Dr., Dalhousie Dr., Farnham Rd. and Southdale Rd. from and to Wonderland Rd. S.
Route 3B was modified to serve King St and Wellington St. between Richmond St. and Horton St.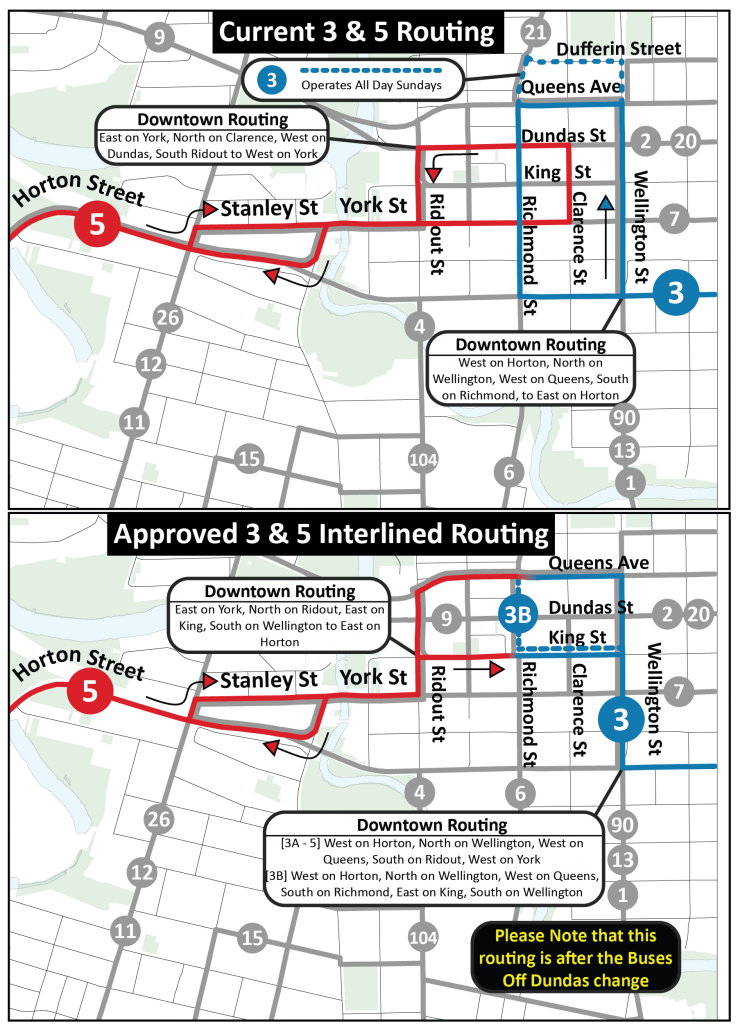 Expand Service Hours
What We Heard
The biggest service request received that was not originally part of the draft plan, was to expand service hours (over 100 requests). The service requests were largely for later weekday and earlier Sunday service.
How Was Feedback Used
London Transit's 5-year plan (2015-2019) sets out to introduce extended service to 1 am during weekdays and to 7 am on Sundays in 2019. The strong public response on this issue caused a reconsideration of this timeline. Our current budget does not allow for the full extension of service on Sunday morning or on weekday late evenings based on other service priorities. Of the two options, expanding service on Sunday was preferable as it requires less service investment. The final plan includes the recommendation to extend Sunday service on our major north south and east west routes at reduced frequencies.  Further Sunday morning service expansion will be assessed in 2019.
The weekday late evening service extension will be assessed as part of the 2019 service planning process.
What Was Changed
Sunday service will be extended to 7 am for major arterial routes at reduced frequencies.
The Routes and frequencies that will operate between 7 am and 9 am on Sundays are as follows:
| | |
| --- | --- |
| Route | Frequency (minutes) |
| 2 | 30 |
| 4 | 45 |
| 9 | 60 |
| 10 / 14 | 45 |
| 13 | 35 |
| 15 / 21 | 60 |
| 16 | 40 |
| 17 | 35 |
| 20 | 45 |
Introduce Service along all of Sarnia Rd.
What We Heard
There is rapid development on the westernmost end of Sarnia Road and it warrants a direct east-west route between Hyde Park and the University.
How Was Feedback Used
The draft plan recognized the development demand in this area with proposed extensions on Route 20. This issue was deemed to be a lower priority relative to other issues being addressed in the 2018 Service Plan. Planned development in the Hyde Park and Sarnia area still has not reached a full build out and projected ridership is low to moderate. Development in the area will continue to be monitored and the potential for full Sarnia road service will be assessed as part of the 2019 Service Plan Review process.
Wonderland North of Sarnia Rd.
What We Heard
Provide North-South Service on Wonderland North of Sarnia Rd.
How Was Feedback Used
Analysis of a north-south service on Wonderland Rd. north of Sarnia Rd. is currently being conducted. Insufficient time was available to complete analysis and consultation in order to enact any changes in the 2018 Service Plan. Recommendations resulting from the analysis will be reviewed as part of the 2019 Service Plan Review process.
Provide service to Exeter & White Oaks Road
What We Heard
Numerous service requests were received for Exeter Rd. between White Oak Rd. and Meadowbook Dr. and for White Oak Rd. between Exeter Rd. and Bradley Ave.
How Was Feedback Used
Analysis of service in this area is currently being conducted as part of our Industrial Service Review process. It is anticipated that the Industrial Service Strategy will be presented to the Commission at the March 2018 meeting and extension of Industrial Service will be evaluated as part of the 2019 Service Plan review process.
Commissioners Road
What We Heard
Provide East-West Service on all of Commissioners
How Was Feedback Used
Similar to Sarnia and Wonderland Roads, the need for corridor service along Commissioners Rd. is recognized. The route modification for Route 24 was intended as a step in this direction. Further analysis on a Commissioners Rd. service will be conducted as a part of the 2019 Service Plan review process.
Overcrowding & Late
What We Heard
Buses are too crowded and always late
How Was Feedback Used
London Transit understands that overcrowding and schedule reliability issues are two of the biggest problems currently facing our system. Both issues are highly intertwined as late buses can result in overcrowded buses. Crowded buses in turn can make buses late. Much of the 2018 Service Plan aims to address these issues. Frequency increases and service investment to Routes:  2, 4, 6, 12, 15, 16 17, 21, 29, 33, 90, 102 & 106 all aim to address these issues and comprise nearly 60% of the service plan budget.
Changes in the southwest are also intended to free up service hours so that investment in these routes can be made. The feedback we received on these issues help to reinforce the need to enact some form of change in the southwest and to maintain our investment on those routes most afflicted by overcrowding and schedule reliability issues.
Extend Evening Service on Route 24 & 39
What We Heard
Requests were received to extend service hours on several routes. With five requests respectively, service hour extension for Route 24 and 39 to last bus were the most common.
How Was Feedback Used
Both Route 24 and 39 have low ridership. Route 24 in particular, is below London Transit's minimum route productivity standard. The relatively limited requests for this service in conjunction with the Routes' low ridership do not warrant further investment in these routes considering the need for service investment in other areas.
Significant development is occurring along Route 39 that is leading to consistent ridership growth. The development and ridership growth will continue to be monitored and potential service expansion on this route will be re-evaluated as part of the 2019 Service Plan review process.