Due to the closure of the York & Richmond intersection from July 2, 2019 to September 2019 Routes 4, 6, 15/21 & 26  will be on detour. During this time the following detour will be in place.  
Routes 4, 6 & 15/21
Northbound: East on Horton, left on Wellington, left on Queens, right on Richmond to regular route.
Southbound: South on Richmond left on King, right on Wellington, right on Horton, to regular route.
*Effective July 22 the following will no longer serve as temporary stops for Routes 4, 6 and 15:
King at Clarence EB
Wellington at York SB
Wellington at Horton NB
Wellington at York NB
Queens at Clarence WB
The temporary stops that will remain are:
Wellington south of Dundas NB
Richmond south of Dundas SB
Horton at Richmond EB
Route 26
Southbound: West on Queens, left on Ridout, right on York, left on Wortley, right on Horton to regular route
Alternative stops can be found at:
Queens at Richmond westbound
Queens at Talbot westbound
Ridout at Dundas southbound
Ridout at York southbound
Northbound: Regular Routing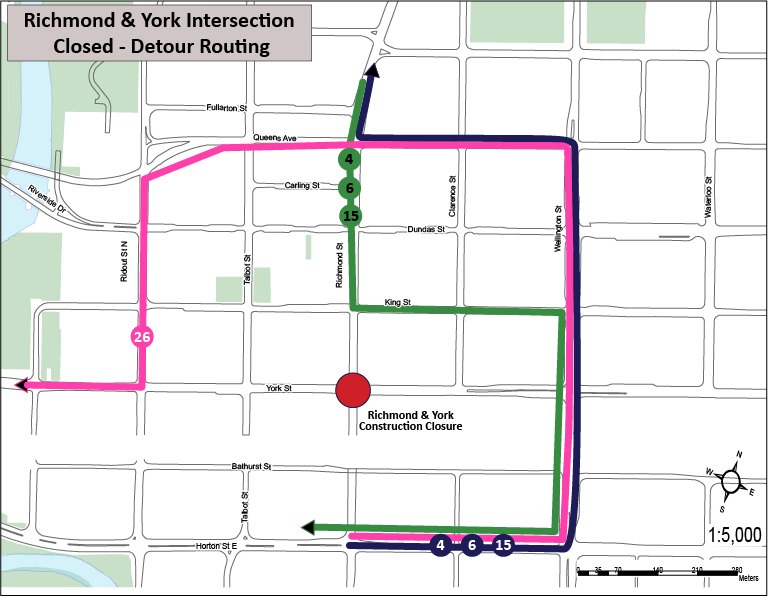 In addition, there are schedule adherence concerns for all routes through the downtown during this time due to anticipated increase in traffic on Wellington, King and Queens. We apologize for any inconvenience.
Please visit realtime.londontransit.ca or Google Maps for up-to-date bus arrival information.
If you have any questions regarding the above detour, please contact Customer Service at 519-451-1347 or ltc@londontransit.ca.