2021 Draft Service Plan
Each year, London Transit develops an annual service plan to improve the transit network and overall operations. The process involves the creation of a draft plan, a period for public feedback and further review, and completion of the final recommendations.
The draft service plan took direction from the approved Five-Year Service Plan Framework- 2020-2024, input from the public, Operators, Inspectors and Dispatchers, as well as from current operational concerns. The 2020 draft plan is largely focused on improving frequency to reduce overcrowding and adding additional service to improve reliability.
There are more service improvements proposed in the plan than the budget allows. Service changes will be refined through public feedback and further analysis before the final recommendations for implementation are developed. The final recommendations will be presented at the January 2020 Commission meeting and approved changes are anticipated to be implemented in September, 2020.
A summary of the draft plan is described below; if you would like more detailed explanations for the proposed changes, refer to Staff Report #1, from the October 30, 2019 Commission meeting.
Public Consultation
2021 Draft Service Plan Survey – Complete by December 18, 2020
Due to the impacts of COVID-19, in person public consultation will not be taking place for the 2021 Draft Service Plan. To provide feedback on the proposed changes we encourage passengers to complete the Online 2021 Draft Service Plan Survey. Alternatively Planning Department staff can be reached at ltcplan@londontransit.ca to provide feedback or set up a one on one phone call to discuss the service plan changes in more detail. As always feedback can also be provided by contacting our Customer Service Representatives at 519-451-1347 or ltc@londontransit.ca
2021 Draft Service Plan Changes
Routing Modifications
Route 102
Route 102 is proposed to be modified through the downtown core to improve reliability. The proposed routing would eliminate service on Richmond south of Queens, King Street, Wellington and Queens east of Richmond. Instead the route would operate south on Richmond to west on Queens/Riverside to north on Wharncliife. Passengers affected by the routing modification will continue to have alternative routing options to Western University, including Route 106 travelling north on Richmond.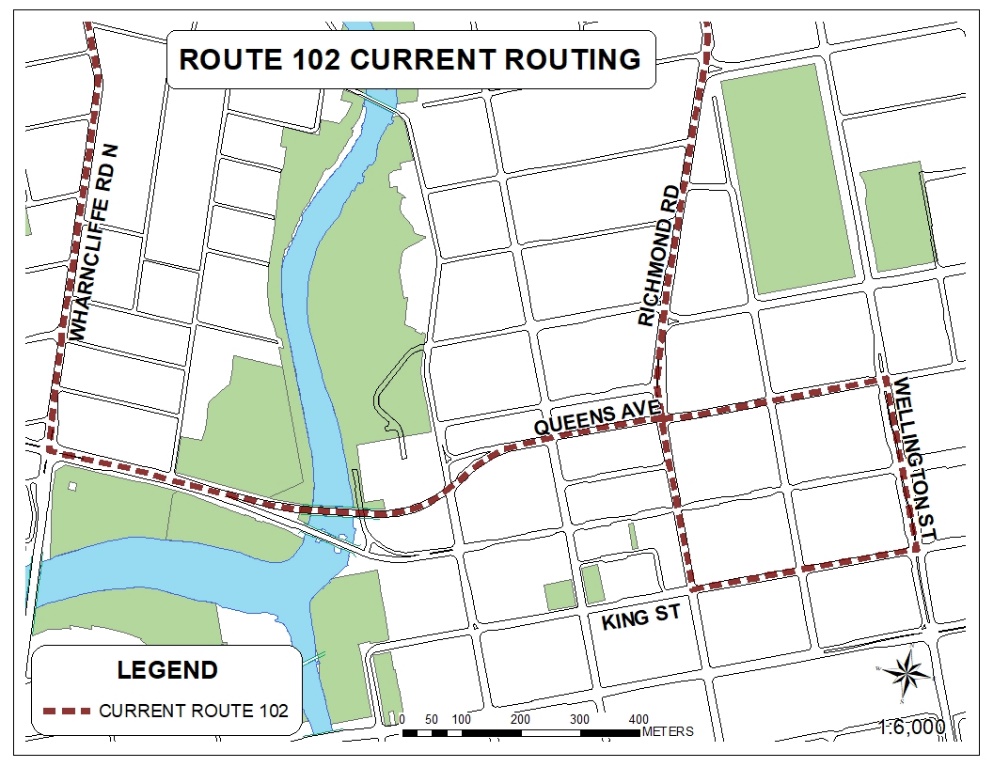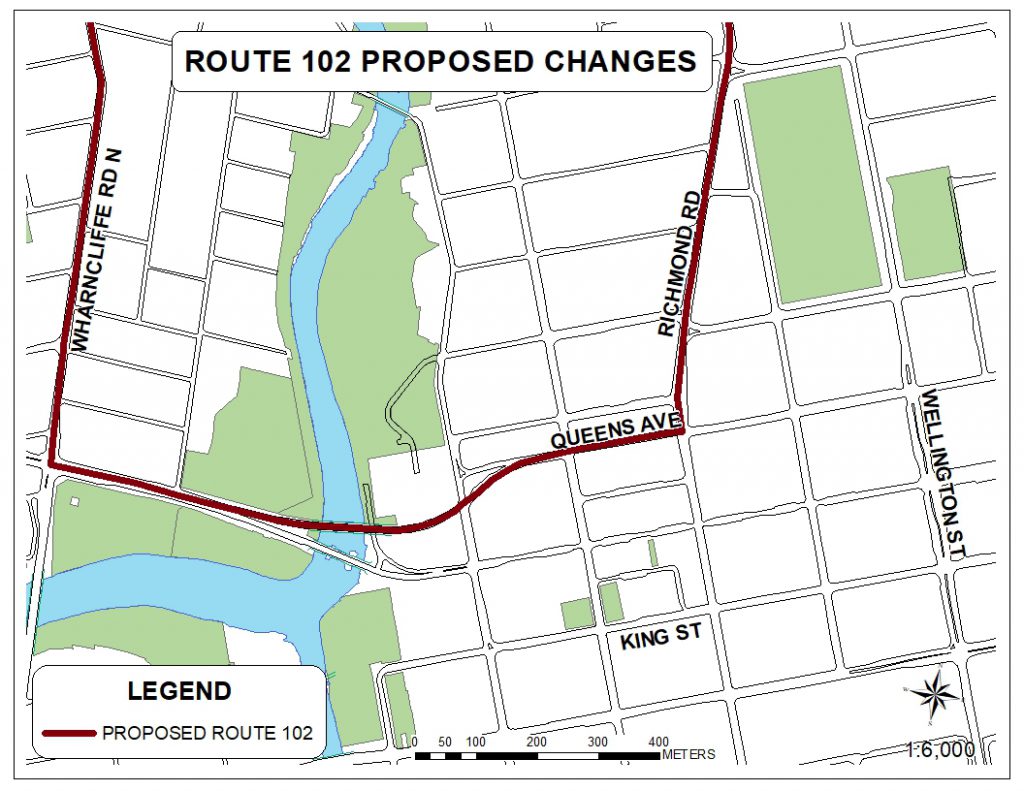 Frequency Modifications
Over the past Five-year Service Plan, the focus was on 'right-sizing' the system by better matching service with demand. This resulted in a significant number of routing modifications across the system between 2015 and 2019. The 2020 Service plan less focused on modifying routes and instead on improving frequency to reduce overcrowding and adding service to improve reliability.
Listed below are the proposed changes as part of the Draft 2020 Service Plan, noting there are more changes proposed than budget allows.
Route
Description of Service Change
2
Weekday – Increase Round Trip Time to 135 minutes between 4 and 6 pm
Sunday – Increase frequency to 20 minutes from 9-11am
Sunday – Increase frequency to 20 minutes from 6-10pm
4
Increase Weekday frequency from 20 minutes to 17 minutes between 12 and 2 pm
10
Sunday – Increase frequency to 30 minutes from 5-10pm
Sunday – Increase frequency to 40 minutes from 10-11pm
12
Weekday – Increase frequency to 45 minutes from 9pm – 12am
Saturday – Increase frequency to 30 minutes from 8am – 12pm
Saturday – Increase frequency to 30 minutes from 6pm – 9pm
Saturday – Increase frequency to 45 minutes from 9pm – 12am
13
Weekday – Increase frequency to 24 minutes from 9pm – 12pm
17
Saturday – Increase frequency to 30 minutes between 6 and 10 am

Sunday – Increase frequency to 30 minutes between 6 and 9 am

Sunday – Increase frequency to 30 minutes between 6 and 9 pm

20
Weekday- Increase frequency from 20 minutes to 15 minutes between 9am – 4pm
Weekday- Increase frequency from 20 minutes to 15 minutes between 6pm – 9pm
25
Weekday – Increase frequency from 30 minutes to 20 minutes between 7 am and 9 am
Weekday – Increase frequency from 30 minutes to 20 minutes between 9 am and 12 pm
Weekday – Increase frequency to 20 minutes from 12-4 pm
Weekday – Increase frequency to 20 minutes from 6-9pm
Saturday – Increase frequency to 20 minutes from 8am – 6pm
Saturday – Increase frequency to 24 minutes from 6-9pm
Saturday – Increase frequency to 30 minutes from 9pm – 12am
Sunday – Increase frequency to 21 minutes from 9am – 12pm
Sunday – Increase frequency to 27 minutes from 12-3pm
Sunday – Increase frequency to 23 minutes from 5-10pm
Sunday – Increase frequency to 21 minutes from 10-11 pm

Sunday- Introduce service on a 41 minute frequency at 7 am

27
Weekday – Increase frequency to 11 minutes between 9am and 12pm
Weekday – Increase frequency from 11 minutes to 10 minutes between 3:30 and 6 pm
31
Weekday – Increase frequency to 20 minutes between 6 am and 6 pm
Weekday – Increase frequency to 30 minutes between 6 pm and 12 am
Saturday – Increase frequency to 30 minutes between 8:30 and10 am
Saturday – Increase frequency to 30 minutes between 6 pm and 12 am
Sunday – Increase frequency to 30 minutes between 8:30 am and 8 pm
33
Saturday – Introduce service on a 34 minute frequency between 11 am and 7 pm (Fall / Winter Only)
Sunday – Introduce service on a 34 minute frequency between 11 am and 6 pm (Fall / Winter Only)
34
Weekday – Increase frequency from 60 minutes to 40 minutes between 6 and 7 am
Weekday – Increase frequency from 60 minutes to 40 minutes between 6 and 9pm
Saturday – Increase frequency from 60 minutes to 40 minutes between 8 and 10 am
Saturday – Increase frequency from 60 minutes to 40 minutes between 9 and 11 pm
Sunday – Increase frequency from 60 minutes to 40 minutes between 6 am and 11 pm
36
Weekday – Increase frequency to 15 minutes from 6:30-9am & 2-6pm
Weekday – Extend service to 7:30pm on a 30 minute frequency
90
Sunday – Extend service on a 30 minutes frequency between 7 pm and 9 pm
102
Weekday – Increase frequency to 11 minutes from 4-6pm
Weekday – Decrease frequency to 40 minutes from 9-11pm
Weekday – Decrease frequency to 22 minutes from 6-9pm
Weekday – Decrease Round Trip Time by 5 minutes All Day
Saturday – Decrease Round Trip Time by 5 minutes All Day
106
Weekday- Increase frequency to 15 minutes between 6 and 9 pm