2021 Service Plan
At the January 27, 2021 meeting, the Commission approved, In Principle, the 2021 Service Plan Changes.  Noting, the implementation of the service changes is subject to Municipal Council approval of the Commission's Assessment Growth Business Case for Transit Service Level Improvements.
These changes differ significantly from those presented as part of the draft 2021 service plan changes. Through further analysis of the changes included in the Draft Plan, coupled with the unknowns regarding  where ridership demand will return, attention was turned to focus on what improvements could be made in 2021 that will improve the overall attractiveness of the service, supporting the rebuilding of ridership post-pandemic. 
One of the strategic directions for the Five Year Conventional Transit Service Plan is the elimination of 60-minute headways.  Improving frequencies on routes throughout the system will enhance the viability of transit for many Londoners and will provide a solid basis for rebuilding ridership.  Additionally, frequency improvements across the system will ensure that the local transit system is well positioned when the rapid transit corridors begin to operate. 
A summary of the service plan improvements described below; if you would like more detailed explanations for the proposed changes, refer to Staff Report #1,  from the January 28, 2021 Commission meeting.
2021 Service Plan Changes
Routing Modifications
Route 102
Route 102 will be modified through the downtown core to improve reliability. The proposed routing would eliminate service on Richmond south of Queens, King Street, Wellington and Queens east of Richmond. Instead the route would operate south on Richmond to west on Queens/Riverside to north on Wharncliife. Passengers affected by the routing modification will continue to have alternative routing options to Western University, including Route 106 travelling north on Richmond.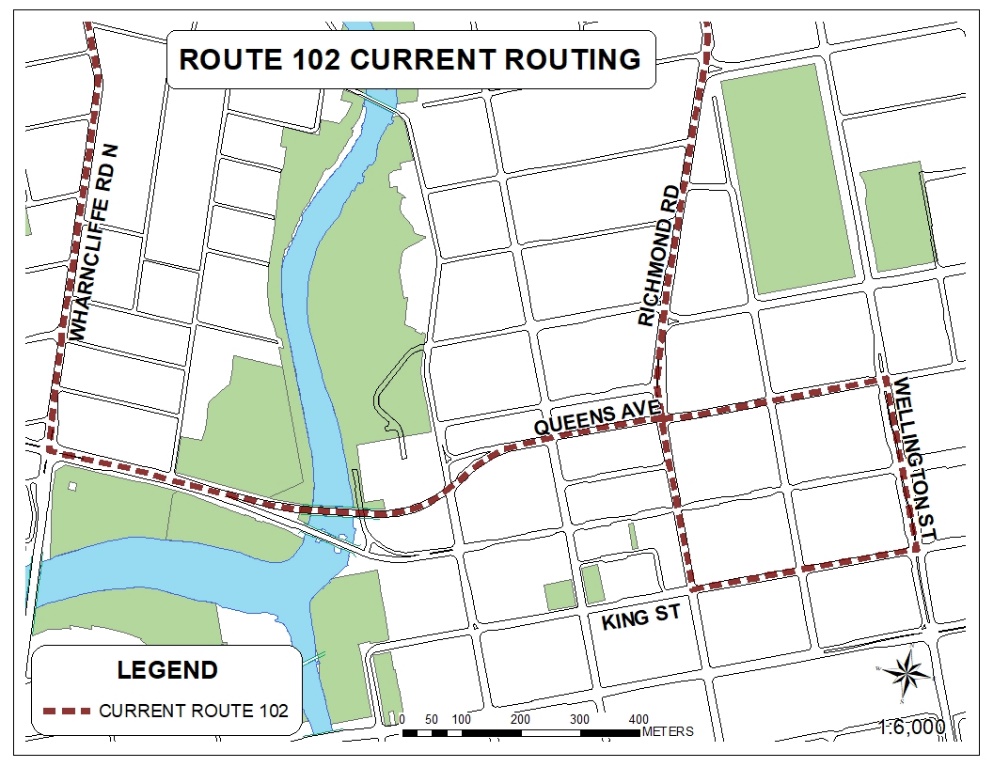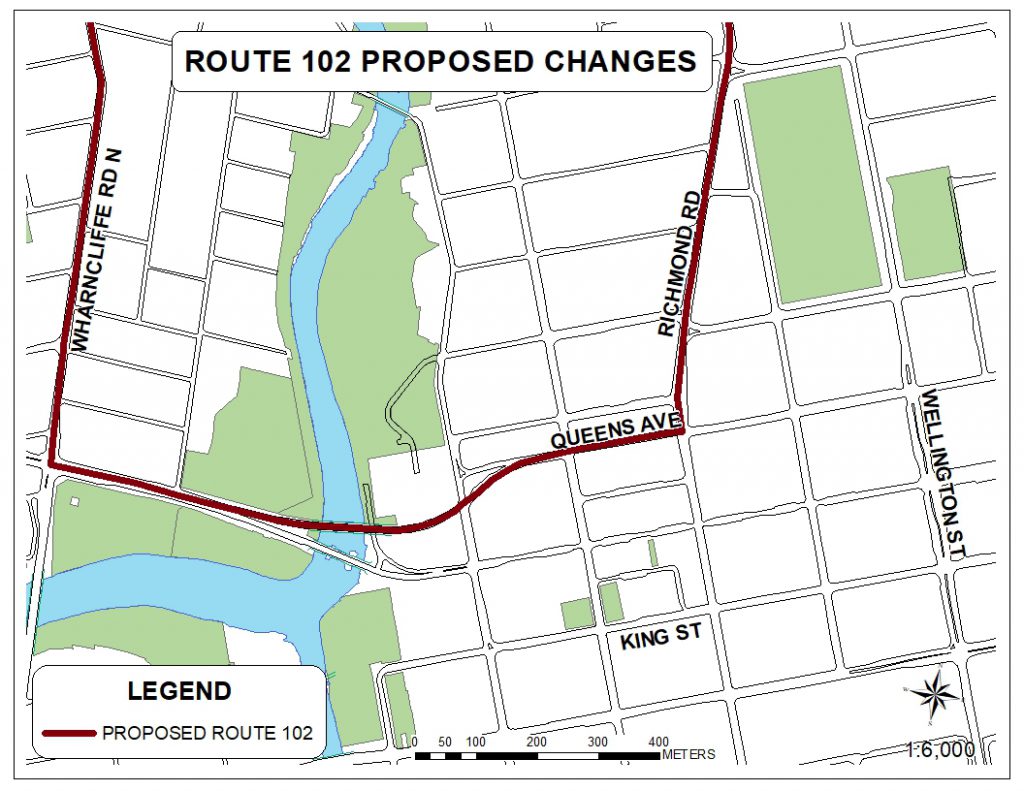 NEW Route 95
A new Semi-Express Route 95 will be introduced serving limited stops between White Oaks Mall and Fanshawe College along Bradley and Highbury Ave.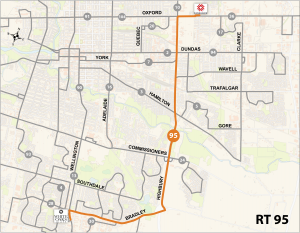 Frequency Modifications
The 2021 Service plan is focused on the elimination of 60 minute frequencies across the system to provide a more attractive service for all passengers. 
Route

Description of Recommended Service Change

Route 6

Saturday- Increase frequency from 55 minutes to 30 minutes between 6 am and 8:30 am

Route 7

Saturday- Increase frequency from 60 minutes to 35 minutes between 6 am and 8 am

Route 9

Saturday- Increase frequency from 60 minutes to 30 minutes between 6 am and 8 am

Sunday- Increase frequency from 60 minutes to 35 minutes between 6 am and 9:30 am

Route 10

Sunday- Increase frequency from 55 minutes to 30 minutes between 6:30 am and 8:30 am

Sunday- Increase frequency from 60 minutes to 30 minutes between 6:30 pm and 11:30 pm

Route 12

Weekday- Increase frequency from 60 minutes to 30 minutes between 9:30 pm and 12:30 am

Saturday- Increase frequency from 60 minutes to 35 minutes between 6 am and 8 am

Saturday- Increase frequency from 60 minutes to 30 minutes between 8 am and 12:30 pm

Saturday- Increase frequency from 60 minutes to 30 minutes between 6 pm and 12:30 am

Sunday- Increase frequency from 60 minutes to 30 minutes between 8 am and 10 pm

Route 15

Sunday- Increase frequency from 55 minutes to 30 minutes between 6 am and 8:30 am

Route 19

Weekday- Increase frequency from 47 minutes to 35 minutes between 10 pm and 1 am

Saturday- Increase frequency from 50 minutes to 35 minutes between 8 am and 10 am

Saturday- Increase frequency from 52 minutes to 40 minutes between 6 pm and 9 pm

Saturday- Increase from 47 minutes to 40 minutes between 9pm and 11 pm

Sunday- Increase frequency from 50 to 35 minute between 8:30 am and 12 pm

Sunday- Increase frequency from 52 to 40 minutes between 12 pm and 5 pm

Sunday- Increase frequency from 50 minutes to 35 minutes between 5 pm and 8 pm

Route 25

Weekday- increase frequency from 60 minutes to 25 minutes between 9:30 pm and 12 am

Saturday- Increase frequency from 60 minutes to 25 minutes between 6 am and 8:30 am

Saturday- Increase frequency from 60 minutes to 25 minutes between 7:30 pm and 11:30 pm

Sunday- Increase frequency from 60 minutes to 25 minutes between 9 am and 3 pm

Sunday- Increase frequency from 60 minutes to 30 minutes between 7:30 pm and 10 pm

Sunday- Increase frequency from 60 minutes to 25 minutes between 10 m and 11:30 pm

Route 31

Weekday- Increase frequency from 55 minutes to 30 minutes between 6:30 pm and 9 pm

Weekday- Increase frequency from 48 minutes to 25 minutes between 9 pm and 11:30 pm

Saturday- Increase frequency from 50 minutes to 25 minutes between 8 am and 10 am

Saturday- Increase frequency from 52 minutes to 25 minutes between 6pm and 9 pm

Saturday- Increase frequency from 48 minutes to 25 minutes between 9 pm and 11:30 pm

Sunday- Increase frequency from 50 minutes to 25 minutes between 8 am and 10:30 pm

Route 34

Weekday- Increase frequency from 60 minutes to 40 minutes between 6 am and 7 am

Weekday- Increase frequency from 60 minutes to 40 minutes between 1 pm and 11 pm

Route 34

Saturday- Increase frequency from 60 minutes to 40 minutes between 8 am and 10 am

Saturday- Increase frequency from 60 minutes to 40 minutes between 7 pm and 11 pm

Sunday- Increase frequency from 60 minutes to 40 minutes between 10 am and 9 pm

Route 106

Weekday- Increase frequency from 20 minutes to 10 minutes between 6 pm and 9 pm