Does the provincial order of limiting public gatherings to five people apply on-board buses?
The provincial order to limit social gatherings to five people does not apply to transit.
We do however ask our riders to make a conscious effort to keep a safe distance between each other while standing at bus stops as well as on-board the buses.
Is London Transit's lost and found still operating?
As a precaution against the spread of the coronavirus effective immediately until further notice all lost & found items considered of lesser value will no longer be kept for reclaim by customers.
Lost & found items of value i.e. wallets, cameras, electronic equipment such as cell phones, laptops, etc. will continue to be stored as per usual procedures (for 14 days). Please be sure to contact us at 519-451-1347 to ensure we have your item of value and only visit our 450 Highbury office between 8:30am and 4:30pm Monday to Friday if we have confirmed your item of value is indeed here.
Why do the conventional buses have bungee cords separating the front of the bus and the back?
In an effort to promote social distancing and ensure the safety of our drivers and riders, London Transit is asking its riders to stay clear from the front of the bus where only those who require assistance are seated.
Social Distancing – together we can slow the spread of COVID-19 by making a conscious effort to keep a physical distance between each other. Social distancing is proven to be one of the most effective ways to reduce the spread of illness during an outbreak.
With patience and cooperation, we can all do our part.
Why are we boarding and alighting from the rear doors on the conventional service?
To allow for social distancing for our Operators, London Transit is requesting conventional transit riders to board and alight from the rear doors until April 30, 2020.
As a result, London Transit will not be collecting fares on conventional transit for this period.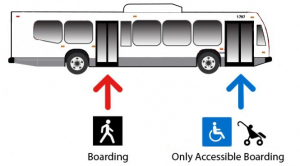 Riders with accessibility needs can continue to use the front doors to board and alight the bus.
Will London Transit be reimbursing monthly passes?
London Transit will be refunding April monthly passes to those who have purchased them. Details to follow.
Is London Transit reducing service?
Yes, London Transit is running; however, beginning Sunday March 22, 2020 our conventional service will be eliminating some routes and reducing service on certain routes.
Specialized transit continues to operate with service levels being matched to demand.
Schedules
have been updated for the affected routes.
Specialized Service hours have been reduced to match demand for the service while at the same time allowing for social distancing on-board.
Is LTC customer service still open?
Yes, both customer service locations (450 Highbury Ave and 150 Dundas) are open and operating regular hours.
What is London Transit doing to clean buses?
LTC regularly cleans all conventional transit buses. As an extra precaution, we have increased our cleaning of high-touch surfaces (stop request buttons, stanchions, straps, back of seats, doors, etc.) in the buses with disinfectant on a nightly basis.
The contractor providing the vehicles used to provide specialized services is ensuring that all vehicles are subject to a thorough cleaning with disinfectant on a nightly basis.
What can I do?
As a transit passenger, you can do your part to stop the spread of germs and viruses. Follow Public Health recommendations and:
• Wash your hands often with warm water and soap or an alcohol-based hand sanitizer
• Avoid contact with people who are sick
• Stay home when you are sick
• Sneeze and cough into your sleeve
• Avoid touching your eyes, nose, and mouth
We remind all those using or considering using London Transit do so for essential trips only. When riding London Transit remember to practice social distancing by keeping space between yourself, other passengers and the operator. Let's all do our part in protecting our loved ones and our community including those who keep us fed, safe, healthy and mobile.
Where can I find more information on COVID-19?