Current Routing

Proposed Routing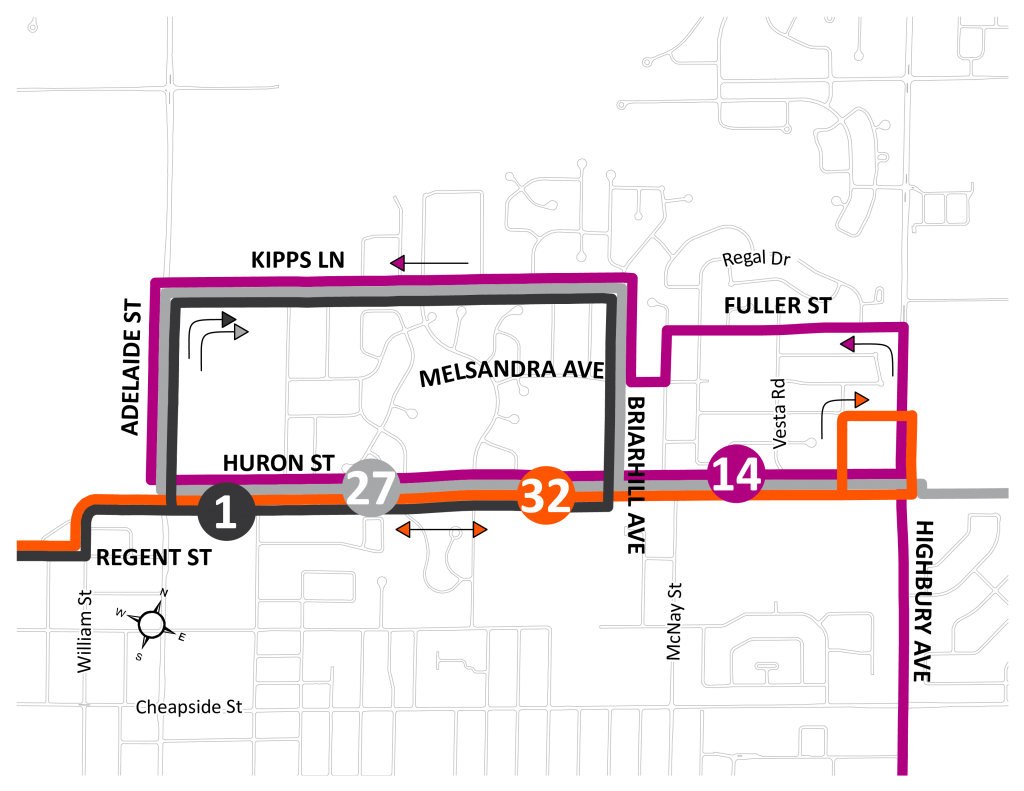 Route 32 is proposed to operate as a direct service between Western University and the Huron and Highbury intersection via University Dr. and Huron St. The Route 14 loop would be extended to Adelaide and replace Route 32 service on Kipps Lane.
Route 32 on Windermere and Doon would be replaced by a re-configured Route 40, which will be addressed in the following section.
These changes enable the creation of a direct east-west route crossing the city and connecting three major nodes: Huron & Highbury, Western University and the Hyde Park Power Centre. The changes also separate the Doon and Windermere area from Route 32. Ridership in the Doon and Windermere area is significantly lower as compared to the other sections of Route 32. The separation provides greater justification for and efficiency in increasing service to Route 31/32.
Current Route 31/32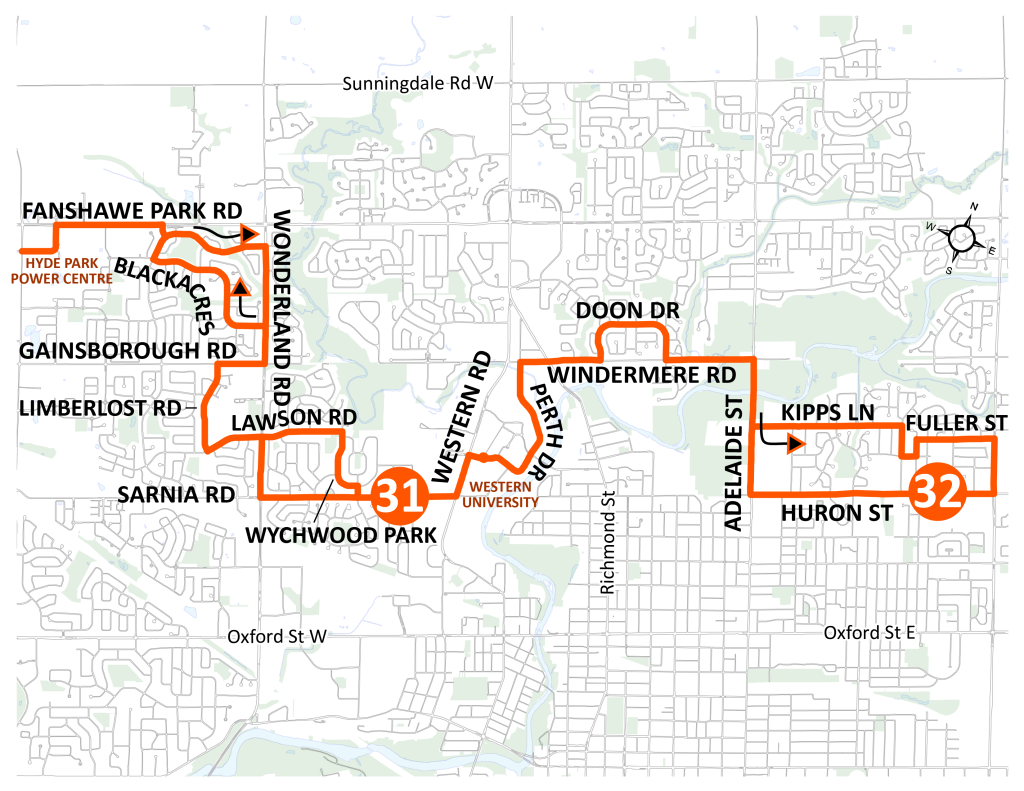 Proposed Route 31/32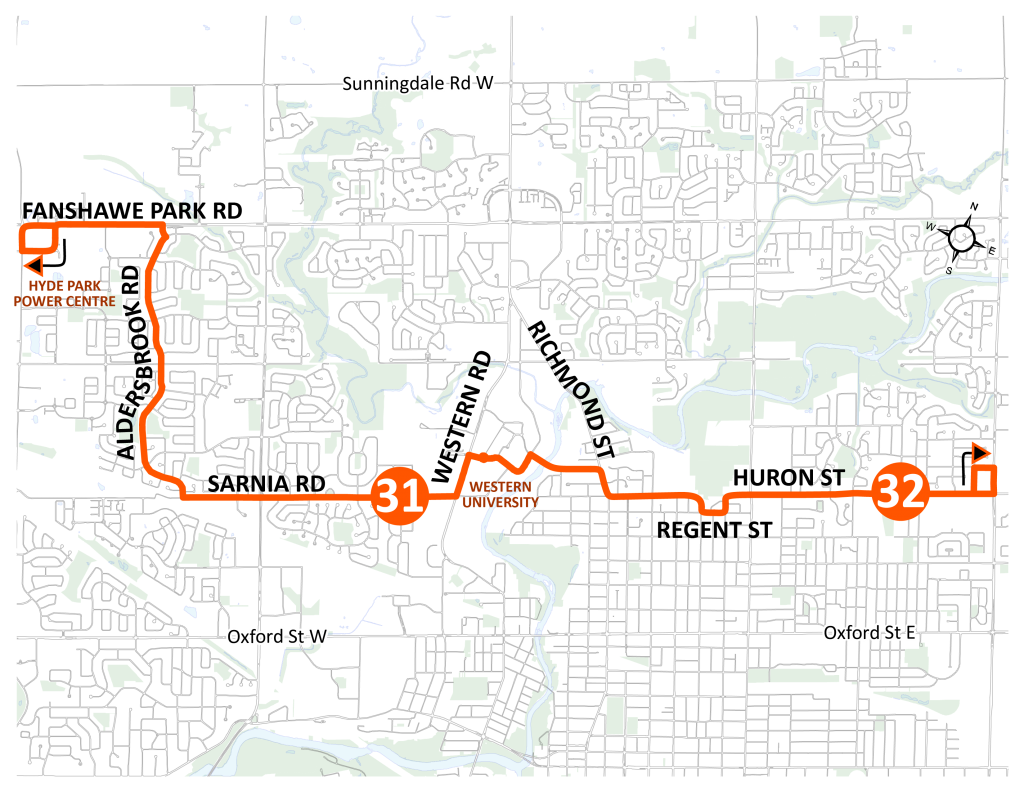 The frequency increases would increase capacity from Western University to Sarnia Road and help alleviate congestion on Routes 10 and 29. Additionally, operating more direct service on Routes 31 and Route 32 will save travel time for passengers travelling between any of the destinations and will save service hours that can be reinvested elsewhere in the network.
Additionally, there have been many requests to extend service later on Route 31 and 32, on weekdays and weekends. Route 31 & 32 passengers will also see reduced wait times in the afternoon and evenings as part of the proposed frequency improvements.
With the removal of Route 32 service from Kipps Lane, an opportunity exists to extend Route 14 to Kipps & Adelaide introducing westbound service on Kipps Lane and both Routes 14 and 32 providing eastbound service on Huron. This will improve passenger access for Kipps and Huron residents utilizing Route 14 and offer more frequency between the nodes of Huron & Highbury and Kipps & Adelaide.
Impacts:
The most significant impacts for the proposed routing changes on Routes 14, 31, and 32 will be:
Kipps Lane passengers will have to transfer to access Western University
Passengers on Windermere Road & Doon Drive that would have reduced frequencies on Route 40 (more details here)

Passengers who take Route 31 and 32 to University Hospital would have approximately a 700m walk or require a transfer.

Montcalm Secondary no longer served by Route 32

No transit service on Barker/ Melsandra
Frequency (Spring/Summer in brackets) – Route 31 & 32
The proposed changes shown below for Routes 31 & 32 improve frequency during the weekday afternoon rush hour and during all evening periods. There are subtle frequency reductions during early morning periods from Monday to Saturday.
Route 14 will not see any frequency change due to the routing change.
| | | | | | | | | |
| --- | --- | --- | --- | --- | --- | --- | --- | --- |
| Weekday Time Period | Early AM | AM Peak | Base AM | Base Noon | PM Base | PM Peak | Early Evening | Late Evening |
| Proposed Headway | 40 | 30 | 30 | 30 | 23 (30) | 25 (30) | 45 | 40 |
| Existing Headway | 30 | 30 | 30 | 30 | 30 | 30 | 60 | 60 |
| | | | | | | | |
| --- | --- | --- | --- | --- | --- | --- | --- |
| Saturday Time Period | Early AM | Base AM | Peak AM | Peak Noon | Peak PM | Early Evening | Late Evening |
| Proposed Headway | 40 | 40 | 30 | 30 | 30 | 40 | 40 |
| Existing Headway | 35 | 30 | 30 | 30 | 30 | 60 | 60 |
| | | | | | |
| --- | --- | --- | --- | --- | --- |
| Sunday Time Period | Early AM | Base AM | Peak | Early Evening | Late Evening |
| Proposed Headway | – | 40 | 45 | 40 | 40 |
| Existing Headway | – | 60 | 60 | – | – |