Updated: 19 April 2022
Construction at the Wellington and King Street Intersection started April 19 and is scheduled to end in mid to late October 2022 – the following routes will be on detour during this time.
Effective April 19, 2022
The following routes will be affected, be sure to check for detour information.
2, 3, 5, 7, 9, 12, 13, 19, 20, 90, 94 & 106
Below is a map with overall detour information.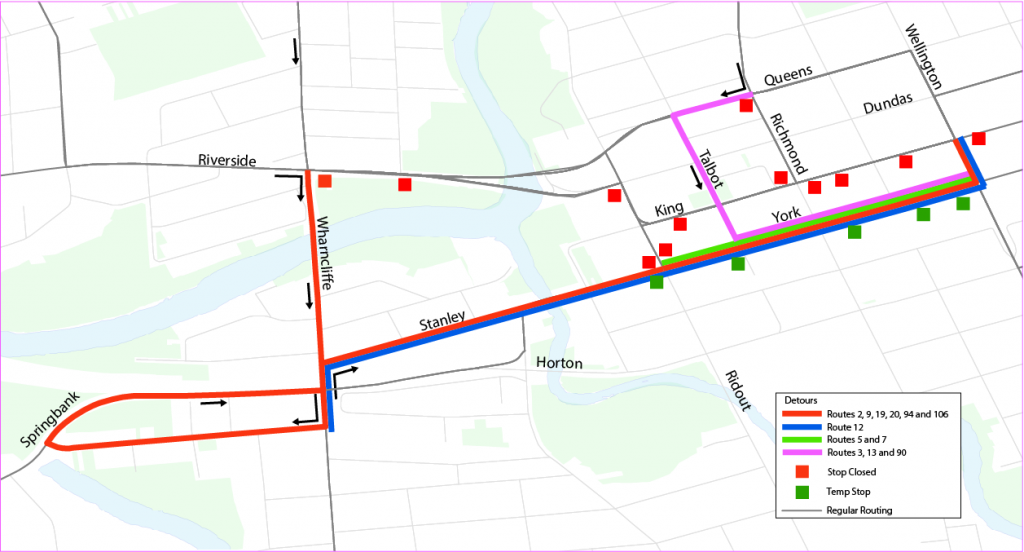 Note that for all detours, buses travelling along corridors where there is regular transit service will service all regular bus stops along the detour.
It is expected the detours will impact service adherence throughout the transit system. We encourage our riders to plan ahead by checking realtime.londontransit.ca for your route information and to allow extra travel time.
The construction is part of the city of London's Rapid Transit Implementation which aims to improve transit for all Londoners.
We thank you in advance for your patience and understanding.