With the opening of Ridout southbound between Dundas and York as well as the reopening of the Richmond and Queens intersection for northbound and southbound traffic, detours for the downtown construction have been modified and will take effect Friday September 2, 2022.
Due to other events and possible closures riders are encouraged to stay up to date by checking the detours page for additional detours and checking realtime.londontransit.ca before travelling. 
Effective Until Further Notice
The following routes will be affected, be sure to check for detour information.
2, 3, 5, 7, 9, 12, 13, 19,20, 90, 94, 102 & 106
Below is a map with the temporary stops and stop closures that are in effect. For route specific detours please check your route detour page above.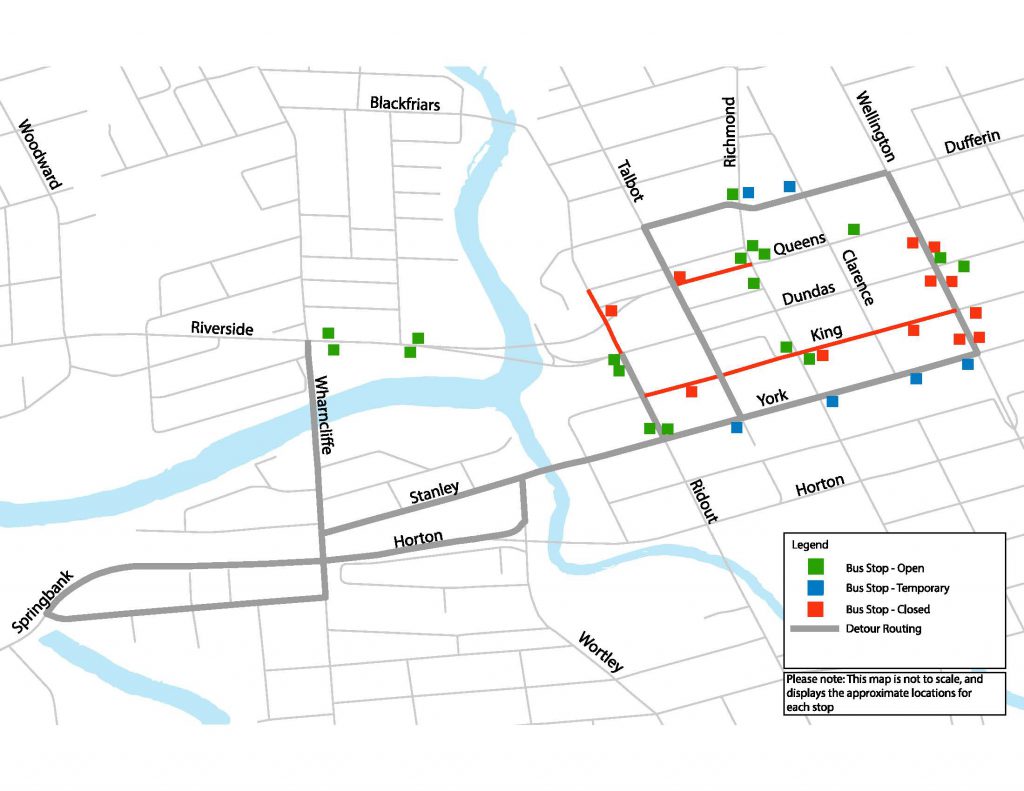 Note that for all detours, buses travelling along corridors where there is regular transit service will service all regular bus stops along the detour.
It is expected the detours will impact service adherence throughout the transit system. We encourage our riders to plan ahead by checking realtime.londontransit.ca for your route information and to allow extra travel time.
The construction is part of the city of London's Rapid Transit Implementation which aims to improve transit for all Londoners.
Please note that due to the magnitude of the detours occurring in the city Google Maps is not accurately displaying detours and temporary stops.
We thank you in advance for your patience and understanding.