54
Thursday Community Bus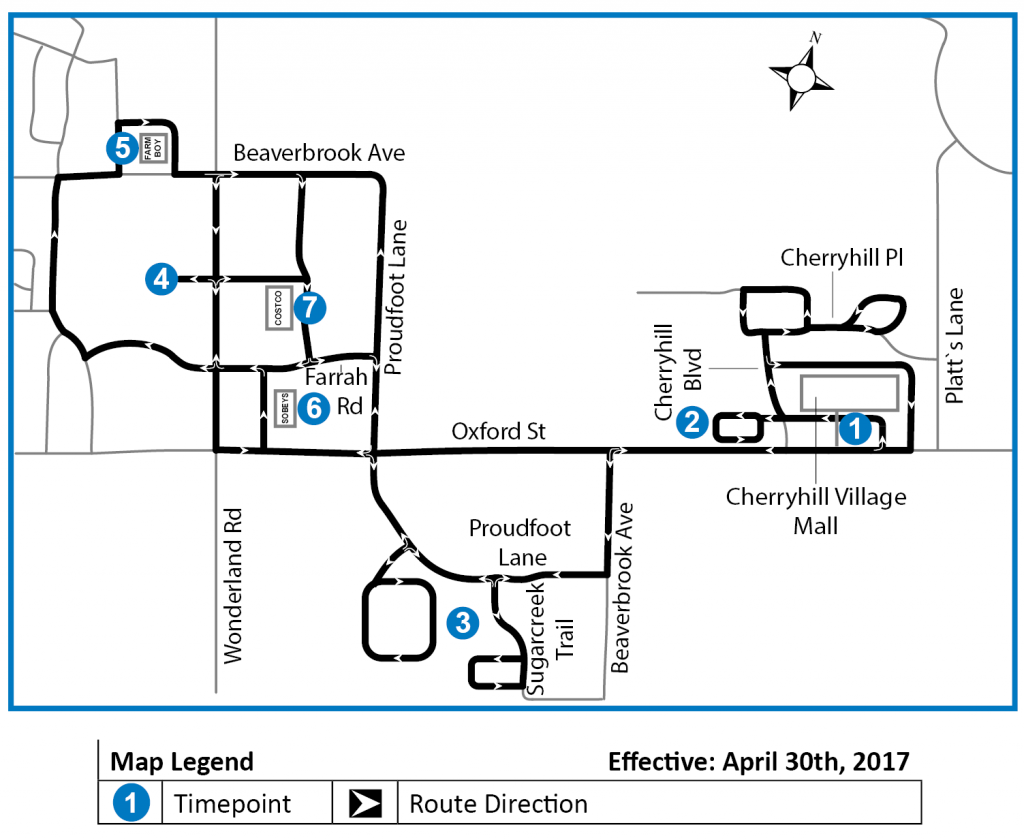 Route 54 - Community Bus - Thursday

Cherryhill Village Mall

Cherryhill Loop

Proudfoot Loop

Wonderland Loop

Farm Boy

Sobeys

Costco

Wonderland Loop

Proudfoot Loop

Cherryhill Village Mall

1

2

3

4

5

6

7

4

3

1

LVS

Starts At

Starts At

Starts At

LVS

LVS

LVS

Starts At

Starts At

Starts At

9:20

9:22

9:37

9:43

9:47

9:58

10:01

10:05

10:11

10:20

10:38

10:40

10:55

11:01

11:05

11:16

11:19

11:23

11:29

11:38

11:55

11:57

12:12

12:18

12:22

12:33

12:36

12:40

12:46

12:55

1:13

1:15

1:30

1:36

1:40

1:51

1:54

1:58

2:04

2:13

2:26

2:28 (Drop Offs Only) 
STOP LOCATIONS

CHERRYHILL LOOP

ADDRESS

STOP TYPE

LOCATION

NOTES

101 Cherryhill Blvd

On Request

See Notes

Served at the elevator, or as requested

105 Cherryhill Blvd

Scheduled

Rear Door

110 Cherryhill Place

Scheduled

Shelter

115 Cherryhill Blvd

Scheduled

Door

120 Cherryhill Place

Scheduled

Door

140 Cherryhill Place

Scheduled

Door

160 Cherryhill Place

Scheduled

Door

170 Cherryhill Circle

Scheduled

Driveway

180 Cherryhill Circle

Scheduled

Door

190 Cherryhill Circle

Scheduled

Door

200 Westfield Drive

Scheduled

Door

201 Westfield Drive

Scheduled

Driveway

304 Oxford St W

Call-in

See Notes

Served at the driveway eastbound only Monday - Thursday

314 Oxford St W

Call-in

Door

Cherryhill Village Mall

On Request

Rear Door

Drop-Offs Only

PROUDFOOT LOOP

ADDRESS

STOP TYPE

LOCATION

NOTES

368 Oxford Street W

Call-in

Door

405 Sugarcreek Trail

Call-in

See Notes

Served at 425 Sugarcreek Trail

425 Sugarcreek Trail

Call-in

Door

445 Sugarcreek Trail

Call-in

See Notes

Served at 425 Sugarcreek Trail

500 Proudfoot Lane

Call-in

Driveway

530 Proudfoot Lane

Call-in

Bus Stop

535 Proudfoot Lane

Call-in

Door

540 Proudfoot Lane

Call-in

Bus Stop

560 Proudfoot Lane

Call-in

Door

570 Proudfoot Lane

Call-in

Door

575 Proudfoot Lane

Call-in

Door

585 Proudfoot Lane

Call-in

Door

595 Proudfoot Lane

Call-in

Door

600 Proudfoot Lane

Call-in

Door

605 Proudfoot Lane

Call-in

Door

695 Proudfoot Lane

Call-in

Door

740 Proudfoot Lane

Call-in

Door

744 Proudfoot Lane

Call-in

Door

760 Horizon Drive

Call-in

Door

Beaverbrook East of Wonderland

On Request

Bus Stop

WONDERLAND LOOP

ADDRESS

STOP TYPE

LOCATION

NOTES

680 Wonderland Rd N

Call-in

See Notes

Served at sidewalk at south end of building

690 Wonderland Rd N

Call-in

Door

700 Wonderland Rd N

Call-in

Door

710 Wonderland Rd N

Call-in

Driveway

720 Wonderland Rd N

Call-in

Door

730 Wonderland Rd N

Call-in

Door
Special Note
Community Bus
Routings are specially designed to serve the needs of seniors and persons with mobility challenges. The vehicle is fully accessible with a low floor and no steps.
Please note that only locations listed on schedule will be serviced.
Cherryhill Loop
After pickups in Cherryhill Loop, passengers can request to be dropped off at Cherryhill Village Mall – rear entrance.
Proudfoot Loop
The bus cannot turn around in the parking lot at 445 Sugarcreek Trail. Passengers will be required to walk to 425 Sugarcreek Trail to board the bus.