Current Routing

Approved Routing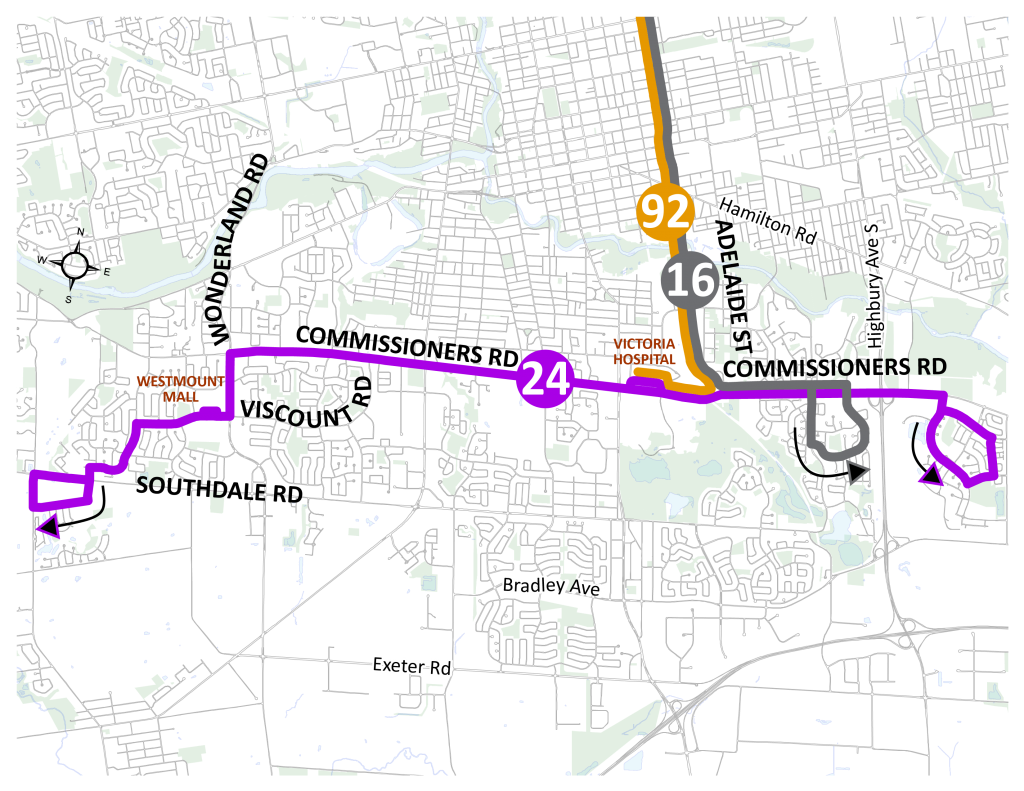 Route 16– will be modified to eliminate the A and B branches.  The current 16B will be served by Route 24 (see below) and the current 16A routing through Pond Mills will be modified.  The new routing in Pond Mills (called Route 16) will operate south on Pond Mills, east/north on Deveron to Commissioners, removing service along Pond View, Glenroy and Banbury.
Route 24 will be modified to form a direct east-west Commissioners route between Wonderland and Summerside. Service in North Talbot will also be modified to operate along Raleigh Blvd., eliminating service along Settlement Trail and Pack Road. 
Route 92, which is not seeing ridership growth at the same rate as Route 90 and Route 91 will see a reduction in frequency and operating hours would improve productivity and allow for reinvestment of those hours into Routes 16 and 24.
Two new express stops will be implemented on Adelaide at Commissioners.
Frequency
| | | | | | | | | |
| --- | --- | --- | --- | --- | --- | --- | --- | --- |
| Weekday Time Period | Early AM | AM Peak | Base AM | Base Noon | PM Base | PM Peak | Early Evening | Late Evening |
| 16 – Proposed Headway | 18 | 15 | 16 | 17 | 15 | 14 | 20 | 25 |
| 16 – Existing Headway | 20 | 20 | 20 | 20 | 20 | 20 | 30 | 30 |
| 24 – Proposed Headway | 40 | 40 | 40 | 40 | 40 | 40 | 40 | – |
| 24 – Existing Headway | 60 | 30 | 60 | 60 | 35 | 35 | 35 | – |
| 92 – Proposed Headway | – | 22 | – | 32 | 25 | 25 | 32 | – |
| 92 – Existing Headway | 20 | 20 | 30 | 30 | 20 | 20 | 20 | – |
| | | | | | | | |
| --- | --- | --- | --- | --- | --- | --- | --- |
| Saturday Time Period | Early AM | Base AM | Peak AM | Peak Noon | Peak PM | Early Evening | Late Evening |
| 16 – Proposed Headway | 25 | 25 | 21 | 15 | 15 | 20 | 25 |
| 16 – Existing Headway | 30 | 25 | 20 | 20 | 20 | 20 | 30 |
| 24 – Proposed Headway | – | 40 | 40 | 40 | 40 | – | – |
| 24 – Existing Headway | – | 60 | 60 | 60 | 60 | – | – |
| | | | | | |
| --- | --- | --- | --- | --- | --- |
| Sunday Time Period | Early AM | Base AM | Peak | Early Evening | Late Evening |
| 16 – Proposed Headway | 60 | 33 | 23 | 30 | 30 |
| 16 – Existing Headway | 60 | 30 | 30 | 30 | 30 |
| 24 – Proposed Headway | – | 35 | 40 | – | – |
| 24 – Existing Headway | – | – | – | – | – |