Your Guide To Using Bus Bike Racks
Boarding with your bike:
Easy to follow instructions are printed directly on the bike rack.
There is no additional charge for bikes on LTC buses.
Service is provided on a first come, first serve basis.
If the bike rack is inoperative, notify the bus operator and wait for the next bus.
Find out more about planning your trip on London Transit on our Routes & Schedules page.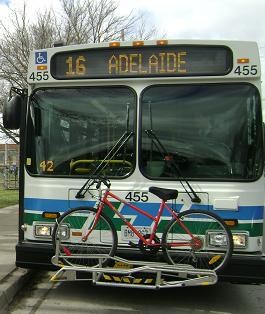 Disclaimer:
Bicycles are transported on buses at owner's risk.
London transit is not responsible for loss, damage or theft.
Passengers are responsible for loading, securing and unloading of their bikes without the assistance of the operator.
No tricycles, tandem or motorized bikes (e-bikes) allowed in bike rack.
All detachable items such as bags, air pumps, and water bottles must be removed. Bicycles with items (flags, mirrors, etc.) that obstruct the operator's view or otherwise compromise the safe operation of the bus will not be transported.
Minimum wheel diameter for children's bikes is 16″.
Children unable to load the bike themselves must be accompanied by an adult.
2023 London's Bike Map
Check out the London Bike Map.
Bike and Ride Instructional Video
Bike and Ride Brochure
Download the Bike and Ride brochure in PDF format.
Additional Information
For more information,
Phone: 519-451-1347
Mail: LTC Customer Service, 450 Highbury Ave North, London ON N5W 5L2