Real-Time Bus Info is your most reliable source for getting your route's estimated arrival time. It also provides other valuable information. Find details on these features in the dropdown headings below.
Be sure to contact us at 519-451-1347 or ltc@londontransit.ca if you have any further questions.
Real-time Bus Arrival Time
Next bus arrival times are shown by route and stop number (found on bus stop plates), providing the next three estimated arrivals at a specific stop. The arrival times are updated every 30 seconds to ensure you are getting the most up-to-date information.
Note: Riders are still encouraged to arrive at their stop 5 minutes ahead of the scheduled time
You can search by:
Stop ID – Enter your stop ID number into the search bar in the upper left-hand corner of the screen – there may be multiple options that appear, be sure to select the stop you are looking for from the dropdown menu. A box will pop up with the next three estimated arrival times for each route serving the stop, scroll through until you find your route.
Street or Landmark – Use the search bar to type in a street name, intersection, landmark, etc. and then select the stop you are looking for from the dropdown menu. Please be sure to be specific i.e. with the entire street name 'Richmond Street' to ensure accurate results. This will then display all routes and stops within a 450 metre radius of the location.
Using the Map – Click on a location and then select 'nearby stops'. This will display all routes and stops within a 450 metre radius of the selected location.
Route – If you are looking for all stops on a particular route, you can use the Routes tab on the right-hand side of the screen to display all stops along a selected route – be sure to select the correct direction i.e. southbound vs. northbound. You can choose to display as many routes at a time as you wish by selecting them from the routes tab.
Scheduled Bus Arrival Time
In addition to finding your route's scheduled arrival time on our website, you can do so from Real-Time Bus Info. Select a route and direction from the right-hand side of the screen, select details and then click on the 'schedule' in top right of the dropdown.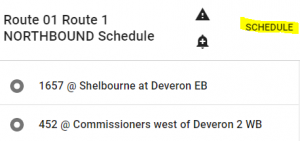 This will show you the schedule for the route, displaying all the stops currently running and their departure times. Real-time information is also indicated on this screen via a radio transmission button beside the times, times without this symbol will indicate scheduled arrival times.
By selecting this icon
, you will be able to create a custom schedule with the specific stops on the route that you are interested in.
Additionally, the Schedule screen provides you with information regarding stop closures; stops that will not be serviced will have the arrival times crossed out.
Detours and Stop Closures
Detours and stop closures are indicated with the alert symbol.

Clicking on the symbol will provide full details of the closure or detour. Additionally, stops that will not be served during the detour will have the times crossed out when selecting a specific stop.

Bus Capacity
Find out how full the bus is ahead of traveling. Select a route using the Routes tab on the right-hand side and click on the bus icon (traveling along the route) that is closest to the stop you will be using. Details on the bus including percentage of capacity, on-time performance, previous stop location and direction will be displayed.

Receiving Automatic Notification
Sign-up for service alerts for your frequent stops and routes. By doing so, you will receive an automatic notification via email, of detours, stop closures or service interruptions affecting your preferred stops and/or routes.
You can also sign-up for a scheduled email to be sent to you, advising you of your routes upcoming arrival times i.e. receive an email at 4:50pm every day letting you know when your bus is expected to arrive at your stop.
Note: Riders are still encouraged to arrive at their stop 5 minutes ahead of the scheduled time.
Here's how to register:
Click on the 'sign-in' button in the top right corner of the Real-Time Bus Info screen. Complete and submit the form, and you are ready to go! Once you are registered and logged in you will be able to sign-up for alerts.
Signing-up for Service Alerts
Once you have an account, and are logged in, you can sign-up for service alerts.
To do this, when either viewing the departure times for a stop, or the schedule times for a route, click on the bell symbol with the plus sign in it – this will open up a window which will in-turn enable the feature for you.
Sign-up for Recurring Scheduled Alerts
If you want your real-time stop times delivered to you via email on a regular basis, then signing-up for 'scheduled alerts' is what you want to do!
Here's how: when viewing a stop, you can press the notification icon (bell with a plus through it) to bring up the subscription window. From there, if you click on be notified with next bus times for this stop you will be brought to a new screen in which you can configure a time/date when you will be sent the automatic message.
Creating a Shortcut on Mobile